zintriguing!!1
Who wants to be a sémillionaire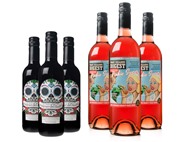 vino + ecommerce. an onwine retailer.
The universe is random. Why shouldn't wine be the same way?
Max Pourer! (You can't tell but that's a Simpsons reference.)
Some things to study carefully while drinking Careful Study:
MOTHER CLONES: a '60s sci-fi film about a race of alien moms
The intersection of wine & statistics: The grapes of math.