Oooh, you said "Big BEND." We were wondering where the clock was.
it's a symbol of fertility, beauty, and immortality. but you can also put it on a biscuit.
We've got tonight. Why don't Cuvée?
zintriguing!!1
Who wants to be a sémillionaire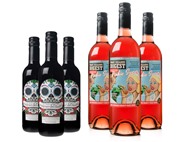 vino + ecommerce. an onwine retailer.
The universe is random. Why shouldn't wine be the same way?
Max Pourer! (You can't tell but that's a Simpsons reference.)